Ingredients:
For the polenta:
250 g. white corn flour
1.5+0.5 l. water
½ spoon salt
For the soppressa:
12 slices of sopressa
1 glass of red wine
½ glass of vinegar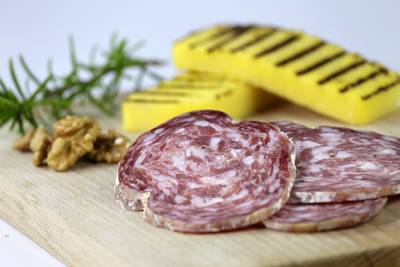 Preparations :
Prepare the white Veneto polenta.
Place the slices of sopressa, at least 1 cm thick, in a wide non-stick pan.
Cook the slices of sopressa for five minutes each side without adding any oil.
Soak with the wine and vinegar over a strong flame and continue to cook, turning the slices, for a further five minutes.
Serve the sopressa on a bed of polenta and garnish with the cooking liquid.