Ingredients (for 350g pennette)
100 g. diced pancetta
300 g. broccoli (head only)
extra virgin olive oil
onion
chilli pepper
salt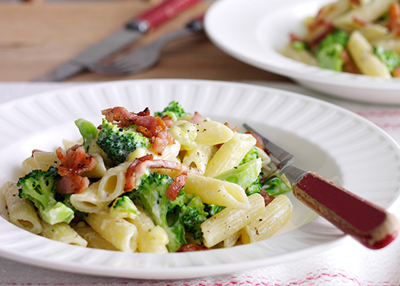 Preparations:
Blanche the broccoli, using only the florets, eliminating the leaves and stalk.
This recipe is very quick, so cook the pasta as soon as the water starts to boil.
In a large frying pan (sufficient to be able to mix in the pennette later) fry the diced pancetta with the oil, chopped onion and chilli pepper to taste, for a couple of minutes.
Add the blanched broccoli florets and, with a wooden spoon, squash them to make a green creamy paste.
Drain the pennette and pour into the frying pan with the pancetta and broccoli cream. Cook for a minute and serve.
Add grated cheese (pecorino or Parmigiano-Reggiano) if desired.